Sweet Treats for Your Valentines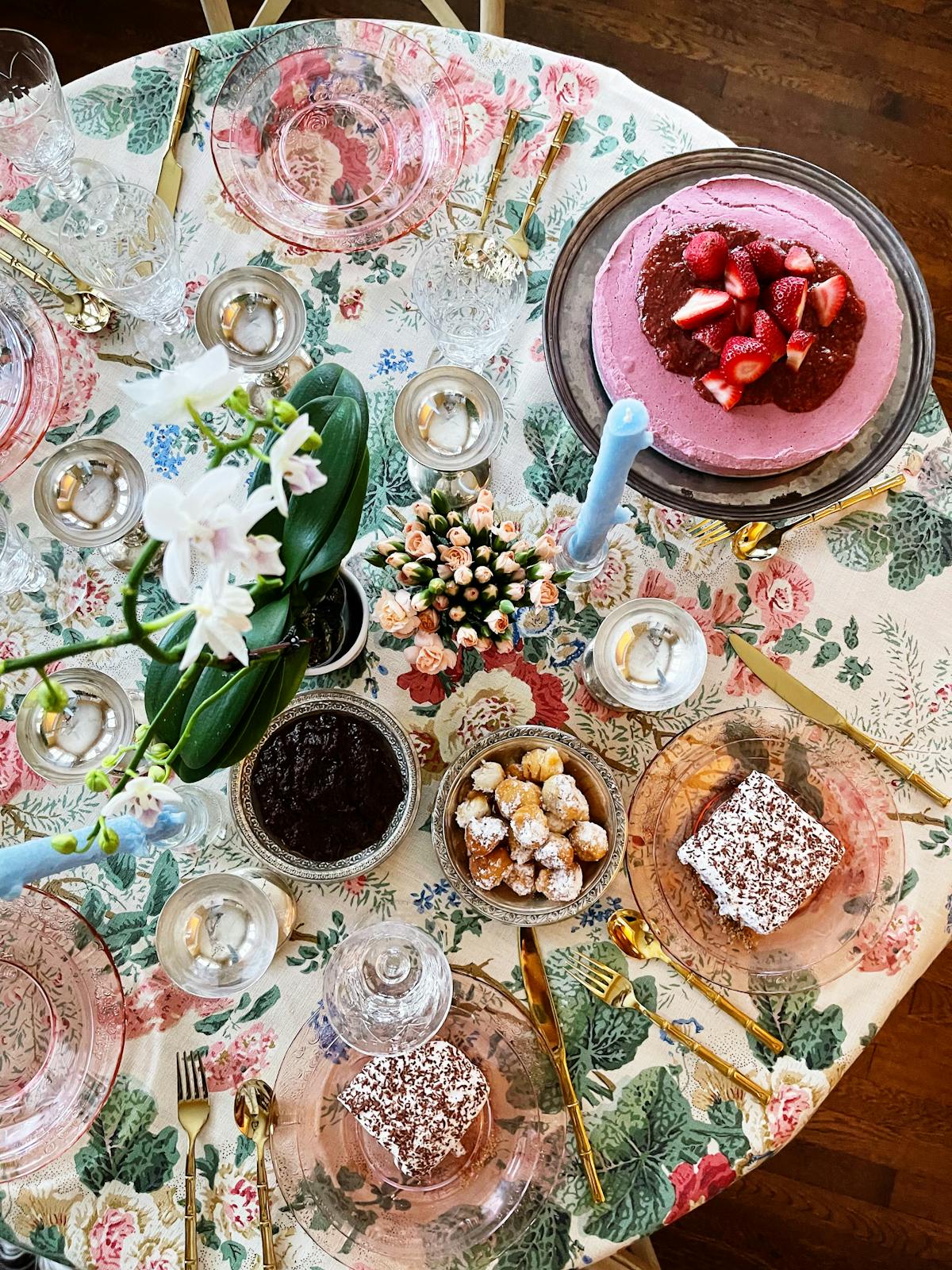 This Valentine's Day, I was feeling nostalgic. My Grandmother Howell hosted Sunday lunch every Sunday for 40 years that I know of. I'm told 60 plus years is the true number. One of the favorite desserts on rotation was Chocolate Cheesecake. Although not technically a cheesecake, that's what we called it. I've seen it in other recipes called Chocolate Delight. It's a super simple dish to make. Pecan crust, cream cheese, chocolate pudding, and whip cream. Easy. So I created it without dairy or gluten. This is Salter's favorite dessert.
I asked Mary Elle what her favorite dessert was and she asked for strawberry cheesecake. Again, I wanted to make it dairy and gluten free becuase I have a dairy allergy and gluten makes me feel bad. I do use ghee for health benefits and because the milk fat is cooked off, it does not bother my allergies. If you are vegan, you can use coconut oil in its place.
And for Ilsa, I made a healthy Nutella and beignets. Will share the beignets and Nutella later. I'd like to perfect those recipes in the meantime.
Both the Chocolate Cheesecake and Strawberry Cheesecake are no bake and truly delicious.
I hope you try these and enjoy with someone you love.
love,
Shannon
Chocolate Cheesecake
Ingredient List
(2) 8oz packages of dairy free cream cheese
2 cups powdered sugar
(2) 10 oz dairy free frozen whipped cream
2 packages (approx 10oz total) of instant chocolate pudding; substitute almond or cashew milk in the recipe; or use dairy-free pudding cups
4 cups non dairy milk
1.5 cups pecans
1/2 cup melted ghee or coconut oil
1.5 cups gluten free baking flour
chocolate of choice for shaving on top
Step 1
Preheat oven to 350°F. Coat a 13- x 9-inch baking dish with cooking spray. Add flour, pecans, and ghee or coconut oil to a food processor or blender. Pulse until combined. Press mixture into prepared baking dish in a thin layer, patting mixture evenly into all corners. Bake until set, about 20 minutes. Remove from oven; cool about 30 minutes.
Step 2
Beat cream cheese with an electric mixer or food processor on medium speed until creamy, about 2 minutes. Gradually add powdered sugar, beating until well blended, 45 seconds to 1 minute. Fold in 1 cup of the thawed whipped topping. Spread mixture evenly over cooled crust.
Step 3
Whisk together milk and the chocolate pudding mix in a large bowl until well combined. Let stand until slightly set, about 10 minutes. Pour mixture over cream cheese layer; spread with remaining whipped topping. Shave chocolate on top. Drizzle with chocolate syrup and pecans if desired. Cover, and chill at least 2 hours or up to 8 hours.
Vegan Strawberry Cheesecake
Ingredients
Crust
-2 cups gluten free grahams crackers and/or refined sugar free if needed
-1/3 cup vegan butter or coconut oil, melted
Filling
-2 cups vegan cream cheese, room temperature (2 x regular tubs)
- ½ cup granulated coconut sugar, or light-colored sweetener of choice
-3 tablespoons melted coconut oil or cacao butter, or 2 tsp agar powder
-3 tablespoons lemon juice and zest, or to taste (around ½ lemon)
-1 teaspoon vanilla extract or vanilla bean powder
- 3 cups fresh or frozen strawberries
-1 cup thick scoopable canned coconut cream
-¼ cup corn starch / corn flour; gluten free flour
-1 teaspoon beetroot powder, to colour if ndeed
To decorate
-1 cup fresh strawberries, stems removed (you can even sub half with raspberries as they tend to be more vibrant)
-1 tablespoon corn starch / corn flour; gluten free flour
Instructions
Step 1
Line an 8 inch spring-form or loose-bottom cake tin with baking paper.
To make the crust:
Add the cookies to a food processor and pulse until fine crumbs. Add the melted butter and pulse until combined. Firmly press the mixture into the bottom of your cake tin. Set aside.
Step 2
To make the filling:
Add the strawberries and a dash of water to a medium-size saucepan over high heat. Simmer and mash with a fork or stick blender to help the strawberries break down. Cook for 10-15 minutes or until the mixture has reduced to around ½ cup, heaped. It should be the texture of tomato pasta sauce.
Step 3
Add the cream cheese, sugar, coconut oil, lemon juice/zest and vanilla extract to a food processor or blender. Blend until smooth.
Step 4
Add the coconut cream and corn starch/flour to the saucepan of reduced strawberries and whisk thoroughly. Bring it to a gentle boil for 5 minutes or until the mixture thickens up. The mixture may seperate which is normal!
Step 5
Add the strawberry mixture to your food processor/blender with the cream cheese mixture and blend until as smooth as possible. If desired, add beetroot powder to colour. Pour the cheesecake filling into your cake tin and smooth the top. Chill the cheesecake the fridge for 4 hours or until set.
To decorate:
Step 6
Add most of the strawberries and all the corn flour/starch to a small saucepan over high heat. Mash the strawberries with a fork or stick blender. Stir until thickened to a jam-like consistency. Sweeten if desired.
Just before serving, top the cheesecake with the strawberry compote and reserved strawberries. Leftovers will keep in the fridge for 5 days.