Vegan or Vegetarian Shepherds Pie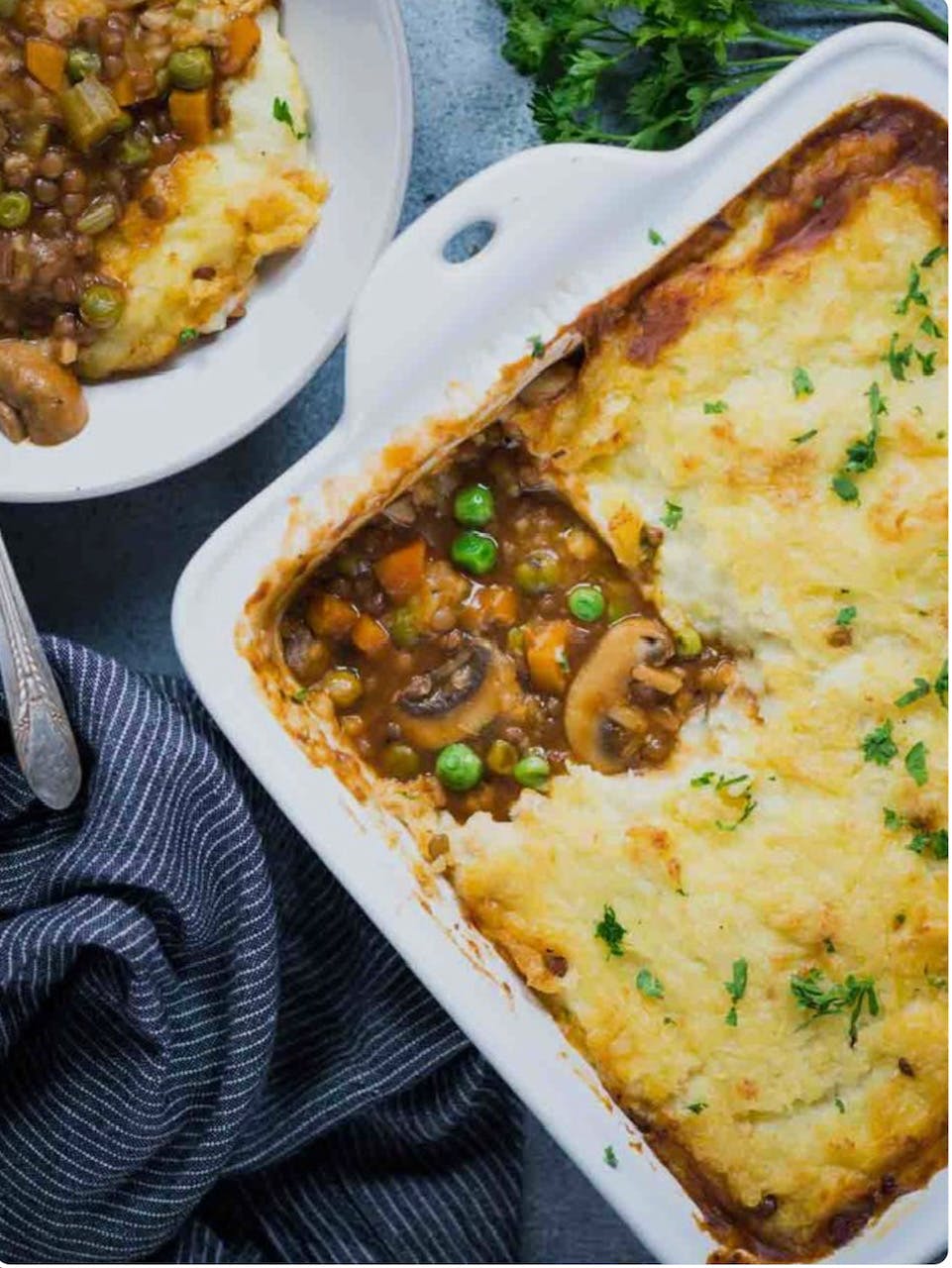 Ingredients
2 tablespoon Olive Oil
1 large Shallot Finely Chopped
½ tablespoon Fresh Garlic minced
¾ cup Celery 2-3 stalks
3 Carrots about 1 cup, chopped
1 bay leaf
1 teaspoon Fresh RosemaryChopped
½ teaspoon dried thyme
400 grams Mushroom
1 cup Cooked Brown Lentil
⅓ cup Tomato Paste
2 tablespoon GF Flour
1.5 cup Frozen Peas
½ cup Red wine; substitute more vegetable broth
1 TBS coconut aminos
1.5 cups Vegetable Broth
½ teaspoon salt (adjust as per taste)
¼ teaspoon Pepper
For Mashed Potato
6-7 large potatoes (around 2 pounds)
⅓ cup soy free veganaise
1/3 cup ghee (can omit for vegan)
½ cup Cashew Mylk
Salt to taste
Instructions
For Mashed Potato
Clean, Peel, and cube Potatoes. Cook in salted water until just tender. Drain and using a potato ricer or masher mash potato. While it is still warm mix in cashew mylk, veganaise, and ghee. Adjust seasoning. Mix until it is creamy.
For Vegetable Filling
Heat oil in a pan. Add chopped shallot, garlic, celery, chopped carrot, bay leaf and herbs. Saute for one minute.

Add Sliced Mushrooms. Saute for another 1-2 minutes.

Add Cooked lentils, tomato paste and flour. Cook for 1-2 minutes.

Add wine, coconut aminos, vegetable stock. Mix well, season with salt and pepper. Let it cook on medium heat until the gravy starts to thicken.

Remove bay leaf. Switch off the flame. Stir in frozen peas.

In an oven-proof pan put the vegetable gravy. Top with mashed potato in an even layer.

Bake for 20-22 mins @ 350 F. For a crispy brown top, towards the end, set the oven to Broil mode and broil for 5-6 minutes.

Remove from oven, sprinkle with chopped parsley. Serve.